Public Policies Made by Citizens Project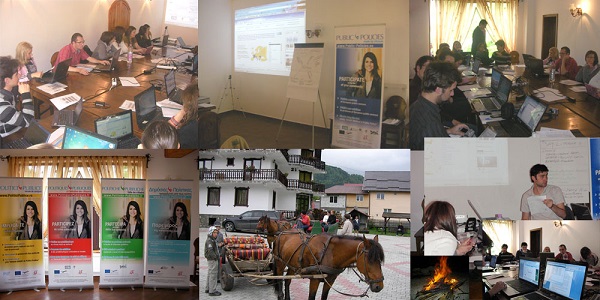 SMART Method of Public Policy was first developed with a grant from the European Commission's Youth in Action Programme, Action 1.3, Projects for Participative Democracy. Before applying for funding, SMART Development Centre established partnership agreements with 7 other nonprofit organizations from Romania, Greece, Italy, and France. These were the Students' League from Galati (Romania), e-Medine and ASTAR (Italy), Institute of Entrepreneurship Development and EuroScience (Greece), and Etudiants pour une Société Durable and Etudiants pour une Europe de l'Education (France).
The project had three specific objectives related to creating the citizen engagement platforms for Europe, Romania, Italy, France, and Greece, organizing an international workshop about participative democracy and launching the citizen engagement platforms:

Objective 1: To develop the final version of the online platforms that facilitate young people's participation at the local, national and European levels. This was a technical objective that created a hub participation platform - www.Public-Policies.eu - and four other platforms linked to it (one for every partner country). Once this objective was met, young people from the partner countries started using SMART Method of Public Policy to offer solutions to problems of public concern from their communities. They could also raise community problems important to them, on the same websites. The participation platform for Romania is hosted at www.PoliticiPublice.ro and is adjusted to allow for participation at a national and local level.
Objective 2: To organize a youth participation workshop in Romania, to exchange experiences, good practice examples and challenges of young people's participation, between the partner organizations. This objective identified better ways to culturally and administratively adjust the method of participation to the partner countries so that more young people would use it and participate with solutions to community problems. The international workshop on participative democracy took place in Moeciu, Romania in May 2010. There were 21 people from the four partner countries who tested the citizen engagement platforms, set up marketing initiatives and promotional messages, and decided upon the follow-on steps.
Objective 3: To launch the project "Public policies made by citizens" and SMART Method of Public Policy. This objective officially marked the beginning of the implementation of SMART Method.
---
This website has been produced with the assistance of the European Union. The contents of this publication are the sole responsibility of SMART Development Center and can in no way reflect the views of the European Union.